Industrial AI Platform
The Premier AI/ML Platform for Industrialization
Intuitive, User-Centric Enterprise AI Software Platform
oPRO.ai Industrial AI platform enable organizations to rapidly build and deploy cloud-based and on-prem packaged software. Our platform seamlessly handle data ingestion and preparation, advanced AI/ML model creation and training, hyper-tuning, operationalization, and deployment across multiple sites.
oPRO.ai's Industrial AI platform enable users to experiment with different algorithms to capture the dynamics of the process accurately. The objective of the dynamic model is to capture the long-term prediction of the process consistent with the length of the control horizon for the optimization process. Predictions are tested with different statistical metrics to ensure that these are good enough to support the optimization process.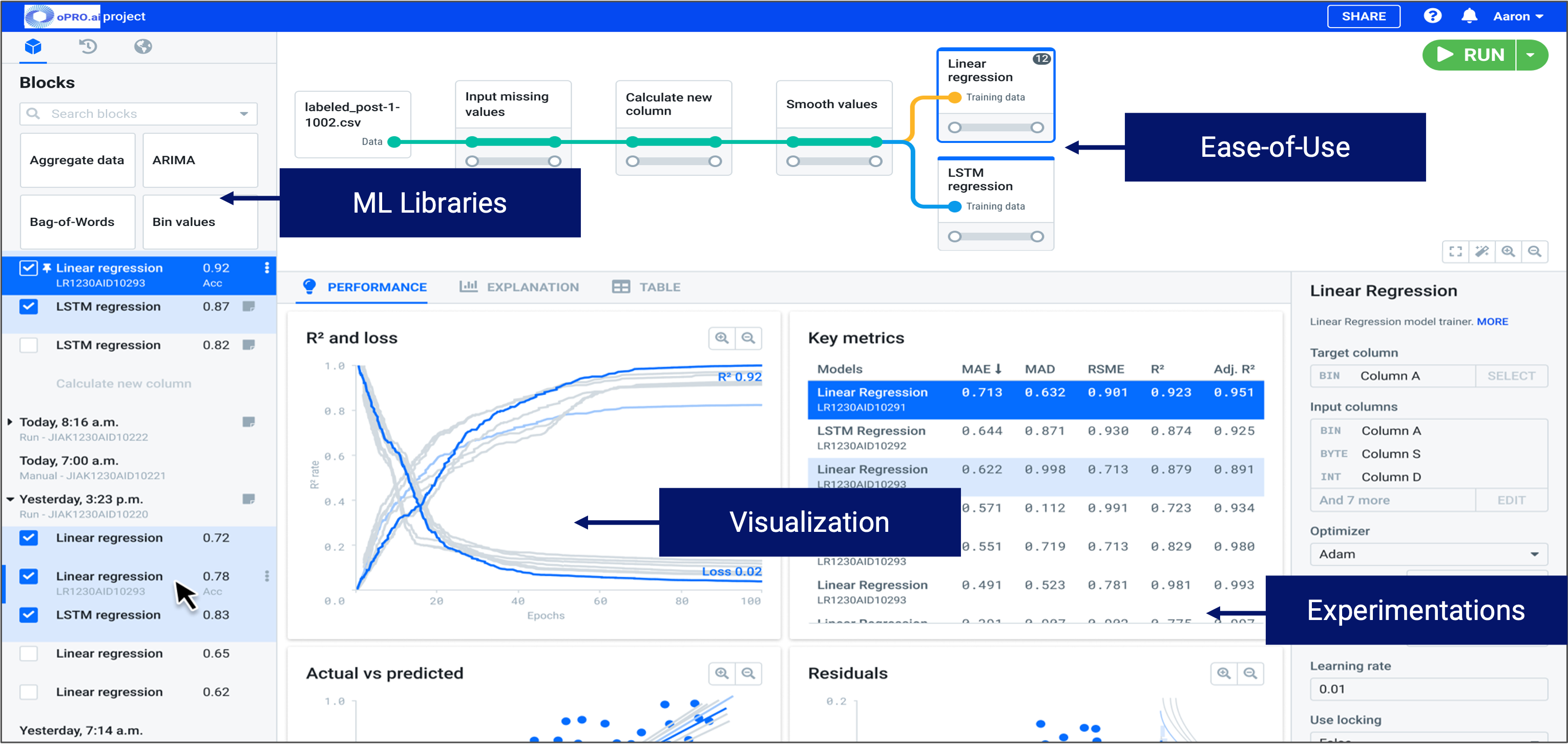 Benefits of oPRO.ai Industrial AI platform
Powerful, easy-to-use platform that simplifies all aspects of machine learning operational management.
Increase Productivity and Performance
Accelerate AI solutions by building upon our workflows as well as user-designed, custom trainable machine learning (ML) and deep learning models and algorithms, data processing and infrastructure blocks.  
Extend ML and deep learning applicability by leveraging a multisource aggregation of different models, popular ML and deep learning techniques, and data processing frameworks.
Increase underlying infrastructure performance with our state-of-the-art ML and deep-learning efficient inference and learning algorithms. Achieve near-perfect scaling of AI to meet problem sizes and hardware resources.
Achieve Faster Time-to-Value
Operationalize AI rapidly, reducing time from months to days with our end-to-end integrated platform that handles data ingestion, data preparation, model creation, operationalization and deployment.  
Minimize ML ops complexity by simplifying and automating almost all aspects of ML operational management — versioning, debugging, creation, training, testing, deployment, continuous learning, maintenance and management — via an integrated platform that controls all AI development activities.
Automate GPU/CPU optimization. Convert, containerize and automatically operationalize any CPU, GPU cluster(s), laptops or cloud computing machines into a distributed AI "supercomputer" that is deployable on-premise and across any private, public or hybrid cloud.
Empower AI for All
Make AI accessible. Remove AI adoption barriers with intuitive, drag-and-drop training and simple workflows with standardized and modular building blocks available through Application Programming Interface (API) and/or Graphical User Interface (GUI).
Transform dirty data into pitch-perfect usage. Clean up, transform and standardize messy, noisy, incomplete and unstructured raw data into actionable and ML-ready resources.
Ensure AI creation is intelligible. Visualize, track and understand AI workflows in detail with graphical summaries throughout every stage — from data ingestion to ML training and serving — to better comprehend AI development.